I helgen läste jag ut volym 11 av serieberättelsen The Walking Dead. En av de mest okompromisslösa berättelserna på länge.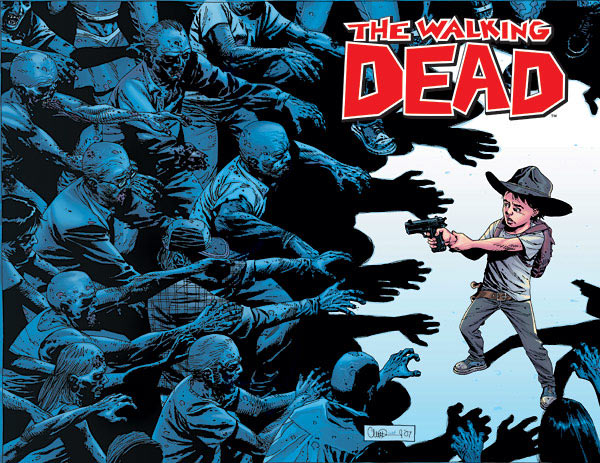 Berättelsen är svart, nattsvart. Och den blir bara värre. Första gången jag försökte läsa böckerna gav jag upp. Det var för svart, för dödande. Förmodligen spelade den dystra senhösten in.
Ingen är fredad. Alla kan dö. Alla kan stympas. Alla är skadade.
Ingenstans är man säker. Varje skyddad plats, varje enklav, varje säkerhet är falsk. De tvingas vidare, i rörelse, bort.
Det är inte de odöda som är de otäcka. Det är människorna.
De odöda, zombierna, sliter sönder de levandes kroppar medan människornas fruktan och brutalitet sliter sönder deras  eget inre. Berättelsen fokuserar också hela tiden på människorna och deras relationer. De odödas hjärndöda ihärdighet skapar en svart ram för de levandes val.
Det är väldigt skickligt världsbyggande av Robert Kirkman, Tony Moore och Charlie Adlard. De har skapat ett landskap som är vidrigt och som du inte vill befinna dig i men som det samtidigt är svårt att lämna.
Kompromisslöst och väldigt läsvärt.
Tack för lånet, Björn Falkevik!
Och ja, The Walking Dead finns ju som tv-serie också nuförtiden, och även om jag inte har orkat se den gillar jag Daniel Kanemotos fan-trailer.